Traditional Gospel Piano Masterclass
Discover the step-by-step system that will give you mastery of traditional gospel Piano sound, expand your traditional Piano chord vocabulary and take your gospel piano playing to the next level!
What if you could finally play amazing traditional gospel Piano like you hear in your favorite songs and videos?
The 'Traditional Gospel Piano' style is an essential skill to have as a gospel musician. If you do not play traditional Piano style, then you are just a step away from becoming a master of this Piano style.
To be a master of traditional gospel Piano is not an impossible dream, reserved for only the rarest, most gifted musicians.
You have a soul. You have a voice.
Our traditional gospel Piano masterclass course is here to help you express it. So…
What is it going to be? Maintain your current status? Or become a master of Traditional Gospel Piano?
Learn several traditional gospel Piano concepts
You've probably said this to yourself before:
"I don't know what chords to play for traditional Piano."
"I'm from classical background."
"I'm not that creative."
But once you get started with this course, you will soon realize that it is not that hard to become a master Piano player when it comes to traditional gospel Piano.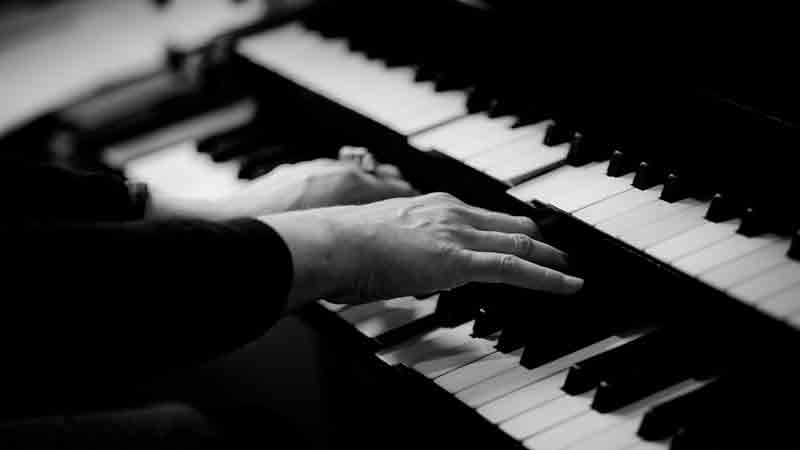 Here's how to become a master traditional gospel Piano player
Learn Traditional Gospel Songs
Get all the tools you need at your fingertips.
Never get left behind with our high quality study mode videos that gives you a playback of every performance at a very slow speed without compromising on quality.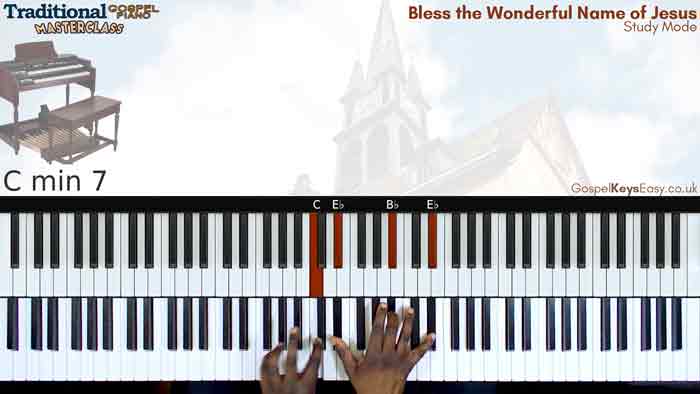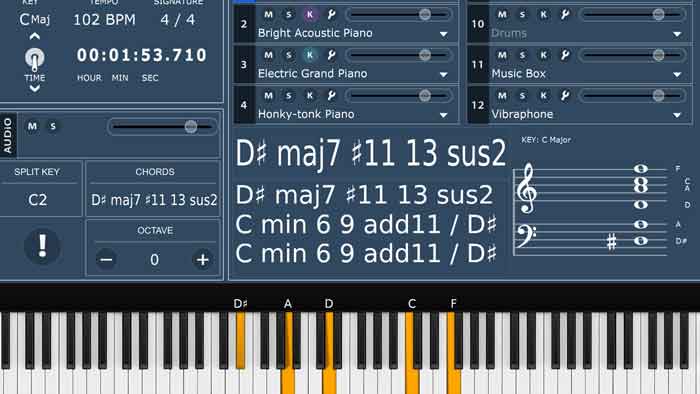 Every lesson has been transcribed for you. You won't just watch the performances fly by, you will  be able to see all the chords played using your MIDI software. All performances are available in MIDI format so you can slow it waaaay down or even CHANGE THE KEY!
All performances come with backing track MP3 audio files so you can play along to the backing music after you have mastered the chords, progressions and other nuances.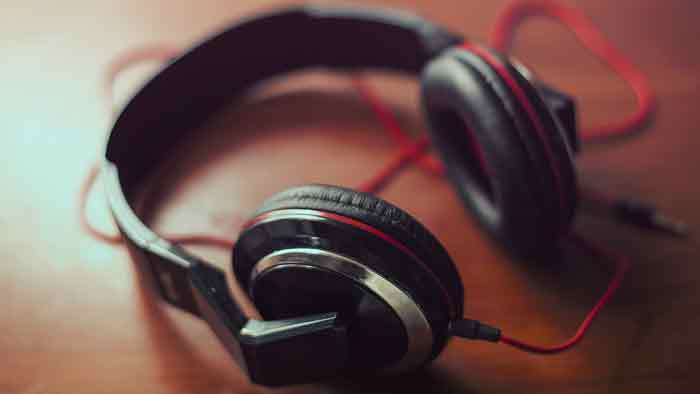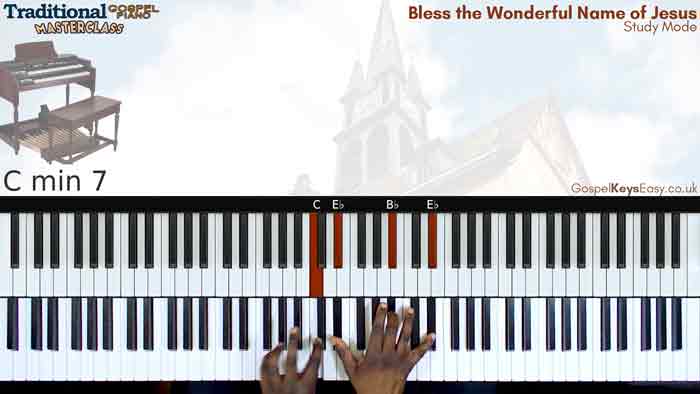 Multiple difficulty levels
This course starts off with a very beginner friendly approach and works its way up to advanced and pro levels. So, learning from this course will not be a jarring experience. You will be carefully eased into the rhythm as you steadily become a master traditional gospel musician.
This course covers all 12 keys so no matter what key is your favorite key, you will be able to learn traditional gospel Piano in your favorite key.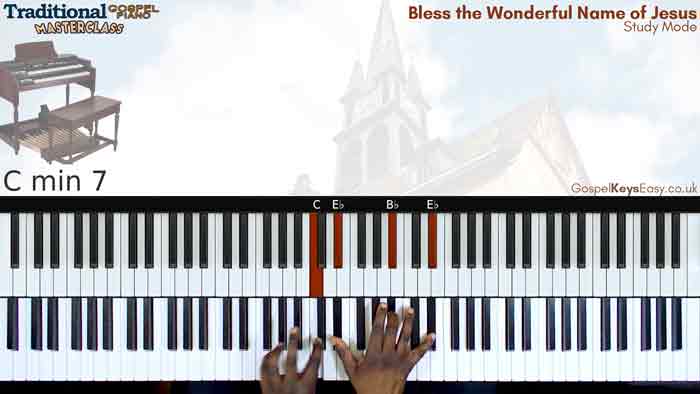 Old school shuffle at beginner to advanced levels
How to convert normal progressions to traditional style progressions
Master the Tritones & Ditones concept and applications
Modern Traditional Piano rhythm
Popular congregational songs
Shout music
Preacher chords
Traditional gospel Piano in all 12 keys
Here's a sneak peak of the lessons inside of the Traditional Gospel Piano Masterclass:
Module 1: Ol' School Shuffle
Demonstration With Performance
Easy Ol' School Shuffle Tutorial
Performance Breakdown
Module 2: I'm On The Battlefield
Demonstration With Performance
Traditional Gospel Piano for Beginners Breakdown
Module 3: Modern Traditional Piano Rhythm
Demonstration With Performance
Modern Traditional Gospel Piano Breakdown
Performance Breakdown 
Module 4: Tritones Mastery
Learn Tritones & How to Use Them In a Two-Part Video Series
Module 6: Congregational Songs Part 1
Congregational Songs Performances
This Is the Day
He Has Made Me Glad
I Will Enter His Gates With Thanksgiving In My Heart
What a Mighty God We Serve
Congregational Music Style 1 Full Tutorial
Full Performances Breakdown
Module 7: Bless the Wonderful Name of Jesus
[Most Popular Traditional Song] Performance
Full Breakdown Tutorial
Learn How to Create Traditional Gospel Chords and Progressions
Module 8: Congregational Songs Part 2
Congregational Songs Performances
Victory Is Mine
There Is Power In the Blood
Congregational Music Style 2 Full Tutorial
Full Performances Breakdown
Module 9: I'm On the Battlefield
Performance
Full Breakdown
Demonstration With Performance
Shout Music Tutorial
Shout Music Performance Breakdown
Module 11: Preacher Chords
Preacher Chords Tutorial
Preacher Chords Performance In Key C
Preacher Chords Performance In Ab
Module 12: Oh How I Love Jesus
Slow Traditional Gospel Piano Performance
Learn How to Convert Normal Progressions to Traditional Style
Performance Breakdown
Bonus Module: Learn Traditional Piano In All 12 Keys
Learn Traditional Gospel Piano In All 12 Keys
Traditional Foundational Chord Progressions Taught In All 12 Keys
Performance Breakdown In All 12 Keys
Awesome content!!! It's what I needed to learn the Traditional way of playing. Beautiful thanks so much.
Lessons are laid out well. The teacher models new concepts slowly which are helpful.
I love the way the course was presented. The content is rich. There is so much to learn from this package
There is a lot to learn in this course! Suits for everyone who wants to play traditional gospel.
Awesome course! I have learned so much and had fun doing it.
I'm learning from the course it is great and understandable
there is so much to learn from this course. thanks for the great content
I really enjoyed the course and my this has really helped my playing
Traditional Gospel Piano Masterclass
What You Get When You Buy The Traditional Gospel Course
Traditional Gospel Piano Masterclass Course ($1,000 Value)

Bonus: 60 Days Free Access to GKE Academy 'All Access' Plan ($64 Value)

Bonus: Lifetime Access to Our 'Free Membership' Plan ($1,000 Value)

Bonus: Free Personal Support For First 7 Days After Purchase

($150 Value)
Frequently Asked Questions
If there is a question not covered here or something we haven't made clear enough or if you have any concerns, please do not hesitate to shoot us a question at info@gospelkeyseasy.co.uk